Make Your Own Dress Immersion Weekend - 10/5-6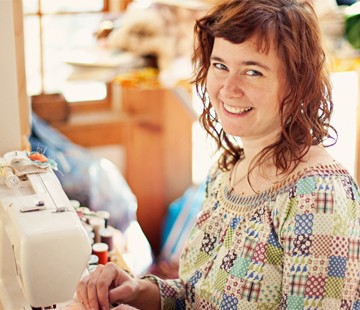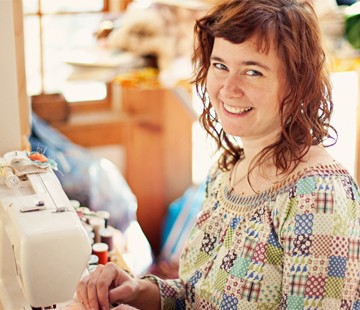 Make Your Own Dress Immersion Weekend - 10/5-6
with Cal Patch
October 5-6, Sat 10:30 - 5, Sun 10:30 - 4
Location: 442 Warren St.
Class size is limited to 8 students.
In this weekend-long class taught by Cal Patch, you'll learn how to draft a pattern (using your own measurements) for your own custom shift dress with sleeves, make a muslin to test the fit, alter the pattern, and then sew a real dress with an invisible zipper! This classic and versatile style can also become a blouse or tunic, with infinite sleeve variations. Students must have some sewing experience and be comfortable using a sewing machine.
Lodging: Stay at Drop Forge & Tool on site or just a mile away for an additional $100 - $125. Email Katharine if you are interested! There are singles and shared rooms available on a first come first served basis.
Supplies: Students must bring their own sewing machine, sewing supplies, pattern making supplies and notions. Complete list below!
For the pattern:
A pad or at least 4 sheets of 18 x 24″ paper, or a roll at least 12″ wide (newsprint or drawing paper)
Notebook
Pencil, sharpener, eraser
See-through 18″ ruler
Tape measure
Scissors (for cutting paper)
Clear tape
For the muslin and dress:
Sewing machine + extension cord
2-3 yards medium-weight cotton or other woven fabric (chambray, light denim, poplin, double gauze, linen, lawn) NB: Fabric should ideally be pre-washed and dried (as you will want to wash your handmade garment) to reduce or eliminate shrinkage.
2 yards muslin (no need to wash this)
Thread to match dress fabric
12″ or longer invisible zipper to match (optional, if you want a more fitted dress or don't like pullover dresses)
Invisible zipper foot for your machine (optional if doing a zipper)
1 package single-fold bias tape to match (1/2″ wide)
Basic sewing kit: scissors, pins & cushion, tape measure, seam ripper, tailor's chalk
Sustenance: The class fee includes hot and cold beverages, a delicious lunch, and an afternoon treat!
Cal Patch has been a maker since she was a Girl Scout in the seventies. She sews, crochets, spins, embroiders, knits, prints, makes patterns, dyes… hence the name of her label: *hodge podge*. Cal has taught all of these subjects for over a decade, and loves showing people new skills. After seventeen years of being a New York City dweller, Cal now resides in the Catskills where she is becoming a crafty farmer. She teaches at creative retreats around the country and online via Creativebug. Her first book, Design-It-Yourself Clothes: Patternmaking Simplified, was published by Potter Craft. You can see what she's up to at her blog, hodge podge farm .